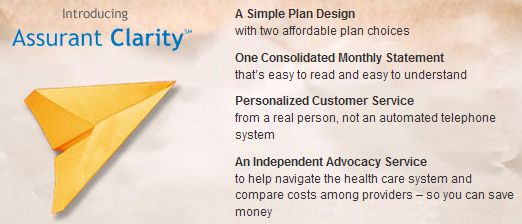 Assurant Health has introduced a new health insurance plan called Clarity.  Clarity is available in metro-Denver and Colorado Springs.  Assurant Clarity features:
A SIMPLE PLAN DESIGN – Assurant Clarity offers a choice of two affordable, simplified plans — an HSA qualified Deductible Plan or a Zero Deductible Plan. Benefits are clearly defined in terms that make sense.
ONE CONSOLIDATED MONTHLY STATEMENT – Once you use your plan, you won't need to pay anything at the time of service when seeing Averde Health network providers. Instead, Assurant pays them for your share of the covered charges — and bill you directly through an easy-to-read Patient Health Care Statement. Now details are captured in one place, and you only write one check for your medical expenses.
PERSONALIZED CUSTOMER SERVICE – Assurant is here when you need them. Feel secure knowing you can contact your Front Desk team with questions about Assurant Clarity. And you'll talk with a real person, not an automated telephone system.
AN INDEPENDENT ADVOCACY SERVICE – We think you'll find your Assurant Clarity plan quite simple. For your convenience, Patient Care serves as an additional resource to help you navigate the health care system, and will research to compare costs among providers, so you can save money.
Get an instant online Assurant Clarity quote or fill out a free expert quote recommendation request and we'll be happy to email you a quote for you to review at your leisure.
Assurant Clarity Brochures and Descriptions
Assurant Clarity Brochure – (636 Kb pdf file) Overview of Clarity plans & benefits.
Assurant Clarity Benefits Guide– (949 Kb pdf file) Overview of Clarity health plan benefits.
Assurant Clarity Questions & Answers– (186 Kb pdf file) Questions and Answers about Clarity
Assurant Clarity Plan Description– (52 Kb pdf file) Clarity plan description & benefit exclusions

Assurant Health– Application Instructions 
Securely Apply Online – Click on the link to view online quotes, plan information and apply online.
* Best Price Guarantee:  Because health insurance rates are filed with and regulated by the Colorado Division of Insurance, you won't find the plans we sell offered for less anywhere else. If you buy from Colorado Health Insurance Brokers, another agent or directly from Assurant, you'll pay the same monthly premium for the same plan.