For 2018, Rocky Mountain Health Plans offers Gold, Silver and Bronze ObamaCare plans for individuals and families who live in the Grand Junction (Mesa County) area only.
2018 RMHP Mesa County HMO Plan Brochure
The 2018 Individual Monument Health HMO plans have two in-network benefit tiers, using the Rocky Mountain Range network for Tier 2 providers including Front Range providers in Denver and Colorado Springs. RMHP's statewide hospital network will be available, with the exception of the three facilities noted below.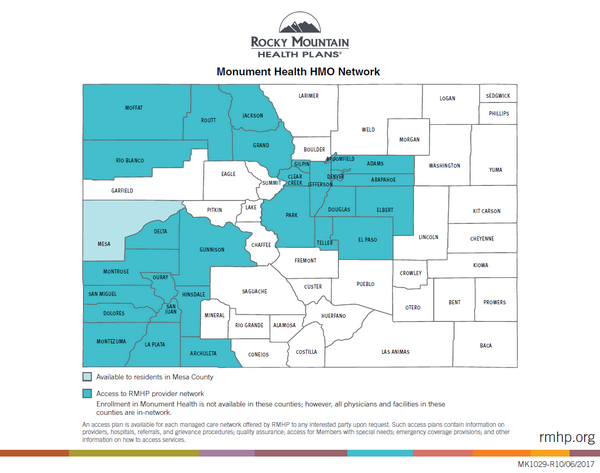 Click here to find a Mesa County RMHP provider.
Instant Quotes & Apply Online
 We would be happy to email you a custom personalized quote, so you can review your health insurance quotes at your convenience. Or give us a call for a free Colorado health insurance quote: (800) 416-4481.
* Best Price Guarantee: Because health insurance rates are filed with and regulated by the Colorado Division of Insurance, you won't find the plans we sell offered for less anywhere else. If you get your health insurance through Colorado Health Insurance Brokers, through another agent/broker, or directly from Colorado's insurance exchange or the insurance carrier, you'll pay the same monthly premium for the same plan, so you can rest assured that you're getting the best available price.