Medicare is federal health insurance for people 65 years or older and for those who are eligible due to a disability. The Social Security Administration recommends that you apply for Medicare Part's A and B three months before you'd like your benefits to begin.
You will typically receive Medicare Part's A and B enrollment information in the mail directly from the Social Security Administration, but if you don't you'll want to call them at 1-800-772-1213.
Medicare Part A is your hospital insurance coverage. Medicare Part B is your medical insurance that cover's doctor bills and office visits. While basic Medicare (Part's A and B) covers many of your health costs please note that they do not cover everything. For most people Medicare Part A is free. Below is a chart showing the 2023 Medicare Part B Premiums.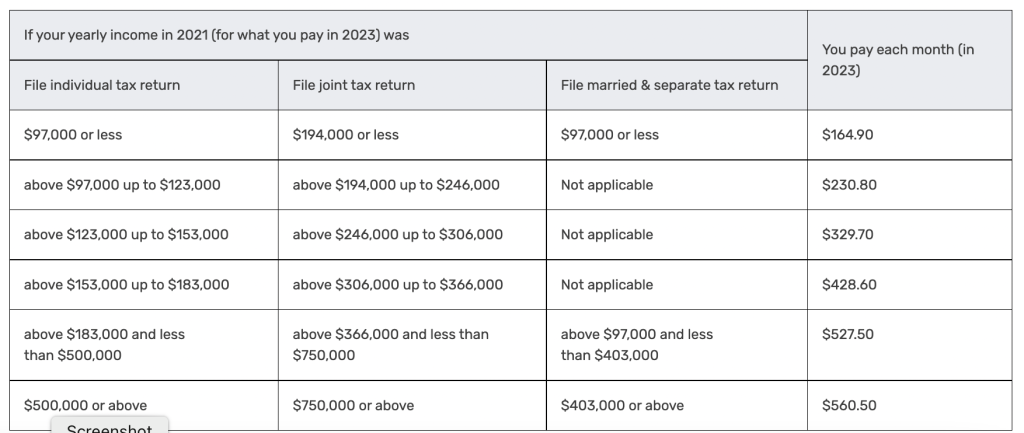 In 2023, the Medicare Part B deductible is $226. After you met your deductible, Medicare pays 80% of any Part B approved services and you are responsible for paying the remaining 20% with no cap on your out-of-pocket costs. Medicare Part B covers outpatient services like doctor visits, lab tests, x-rays, and other services.
If you're a Medicare beneficiary looking for coverage to fill in the gaps for Medicare Part A and Part B, you've come to the right place. Here you'll find a choice of supplemental or "Medigap" coverage options at competitive rates to help fill those gaps.
Medicare Supplement or "Medigap" plans are available in standardized plan designs:  A, F, G and N.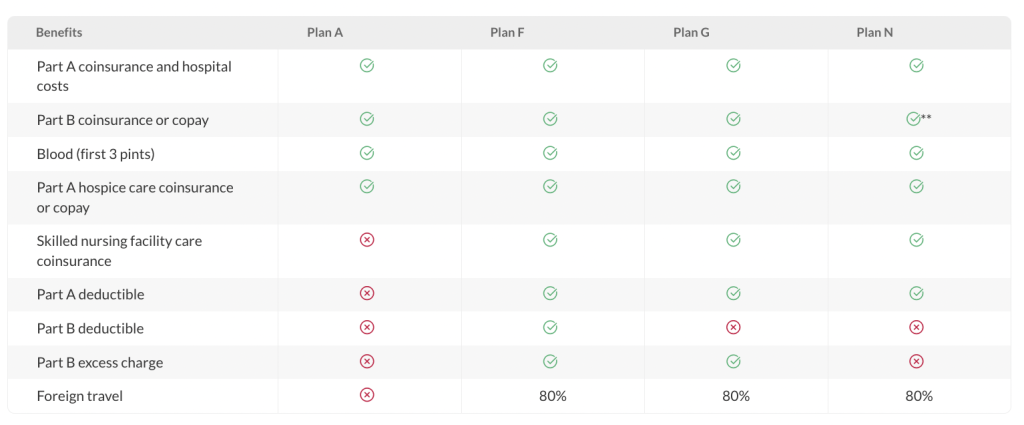 Confused by all the options? Fill out a Personalized Medicare Quote Request and we'll be happy to explain all the options and send your a quote for you to review at your convenience.
You can enroll in a Medicare Supplement plan if you already have Original Medicare Part's A and Part B. Your open enrollment period lasts for six months starting with the month you turn 65.  During this Medicare Supplement open enrollment period, you cannot be denied a policy based on past or current health conditions.
Anthem Blue Cross Blue Shield is one of the leading providers of Medicare Supplement coverage in Colorado.  Anthem's Medicare Supplement plans come with the Anthem tradition of service, value and financial strength that has made their name a household word.
Anthem Blue Cross Blue Shield of Colorado Medicare Supplement Literature
Anthem 2023 Medicare Supplement Plans for Colorado Outline of Coverage
Anthem Medicare Supplement Brochure
Anthem Medicare Application
Medicare and You by the US Government
These Medicare Supplements can't be canceled as long as you continue to pay the premium. Medicare Supplement policies are guaranteed to be renewable even if you have health problems.
Questions? Give us a call at (303) 456-7967 or toll free at (800) 416-4481. We're glad to help!
Or fill out a Personalized Medicare Quote Request and we'll be happy to explain all the options and send your a quote for you to review at your convenience.   To complete your coverage needs, we can also assist you in finding the right Medicare Part D plan, which provides prescription drug benefits.
IMPORTANT NOTE FOR APPLICANTS: If you are in the six-month open enrollment period following the date you reach age 65 and enrolling in Medicare Part B you you are in the guarantee enrollment period and you can not be turned down for pre-existing conditions.
To view the PDF documents listed above you'll need Adobe Reader which you can get for free at: http://www.adobe.com/products/acrobat/readstep2.html
This plan overview is intended to be a brief outline of coverage. All terms and conditions of coverage, including benefits and exclusions, are contained in the certificate, which shall control in the event of a conflict with this overview. Colorado Health Insurance Brokers and Anthem Blue Cross and Blue Shield are not connected with or endorsed by Medicare or the U.S. Government.
* Best Price Guarantee:  Because health insurance rates are filed with and regulated by the Colorado Division of Insurance, you won't find the plans we sell offered for less anywhere else. If you buy from Colorado Health Insurance Brokers, another agent or directly from the health insurance company, you'll pay the same monthly premium for the same plan.