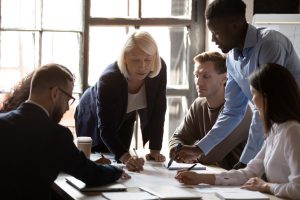 Colorado Health Insurance Brokers is happy to introduce a new value added service we're providing to Colorado businesses.
Mineral is a premium Human Resources platform that combines the best in live advisor expertise with innovative technology and comprehensive instructional content.  This helps businesses better mitigate "people risks" and stay compliant with regulations.
Why This Matters to You
One of the main reasons employers sometimes wind up on the losing end of lawsuits with employees is because their handbooks are out of date and not compliant with ever changing state and federal regulations. Now, businesses can create Living Employee Handbooks that can be more easily be kept in regulatory compliance.
Also, instead of using Google to hopefully find accurate answers to questions, businesses now have access to professional consultations with Mineral's Human Resource and regulatory compliance professionals. You can either speak with them live or ask questions online and either way the communications are all logged for future reference.
Topics that HR professionals and business executives frequently seek "Live Advisor" professional consultations about include:
• Pandemic response
• "Me too" lawsuits
• Diversity, equality and inclusion
• Marijuana laws
• Workplace violence
• Cyber security
• ERISA regulations


• Work related injuries
• Workers' comp
• Harassment & discrimination
• Employee onboarding
• Leave management
• Professional development
• And much more!

Finally, to help your company's employees learn new skills, develop and reinforce habits that can reduce your company's risks, businesses now have access to a comprehensive Learning Management System (LMS) to help businesses manage their "people risk" and also help employees gain professional accreditations, develop core skills, leadership skills and much more.
Our goal at Colorado Health Insurance Brokers goes beyond helping you provide valuable benefits to attract and retain top employees. We want to help your business successfully navigate through uncertain times, mitigating risks and capitalizing on opportunities, so your company can thrive and grow.
See how Colorado Health Insurance Brokers can help take your business to the next level.