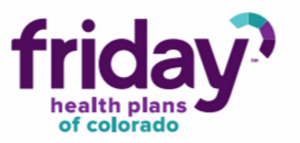 Friday Health of Colorado
Friday Health Plans exited the Colorado market in September of 2023.  Get a custom personalized quote, so you can review your health insurance quotes at your convenience. Or call for a free Colorado health insurance quote at (800) 416-4481
In 2023, Friday Health's in-network hospitals included SCL, Children's Hospital, National Jewish Health, Centura Health, Banner Health, Boulder Community Hospital and Boulder Medical Center as well as many other local hospitals.  Friday Health used Concentra for Urgent Care and locally contracted urgent care centers.  Friday Health used DispatchHealth in Denver, Boulder and Colorado Springs and Teledoc.com.
Friday Health provided unlimited $0 copay PCP visits (including mental health) on many Silver and Gold plans as well as $0 copays for Teledoc (24/7) services.
Friday Health Plan Documents
Click here to look up Friday Health's network providers or here to view Friday Health's drug formulary, which includes their free preferred generic and free generic lists.
Get a Free Quote! Fast, Easy and Online:
* Best Price Guarantee: Because health insurance rates are filed with and regulated by the Colorado Division of Insurance, you won't find the plans we sell offered for less anywhere else. If you get your health insurance through Colorado Health Insurance Brokers, through another agent/broker, or directly from Colorado's insurance exchange or the insurance carrier, you'll pay the same monthly premium for the same plan, so you can rest assured that you're getting the best available price.