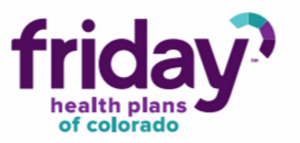 Friday Health of Colorado
Friday Health Plans focuses on overall simplicity, operational efficiency, top-notch customer service, and smart technology are core to Friday's consumer-centric approach to health insurance.
In 2021 some of Friday Health's in-network hospitals include SCL, Children's Hospital, National Jewish, Centura and Banner Health. Friday Health is providing unlimited $0 copay PCP visits (including mental health) on many Silver and Gold plans as well as $0 copays for Teledoc (24/7) services.
Also new for 2021 is Friday Health's National Access Program, which allows for preauthorized care to be paid in-network for members who live outside the primary service area OR have dependents attending college outside the service area. They will be issued a second ID card and must call Friday Health to set up. See the document below for more details and limitations.
Friday Health – 2021 Plan Documents
Click here to look up Friday Health's network providers or here to view Friday Health's drug formulary, which includes their free preferred generic and free generic lists.
Get a Free Quote! Fast, Easy and Online:
* Best Price Guarantee: Because health insurance rates are filed with and regulated by the Colorado Division of Insurance, you won't find the plans we sell offered for less anywhere else. If you get your health insurance through Colorado Health Insurance Brokers, through another agent/broker, or directly from Colorado's insurance exchange or the insurance carrier, you'll pay the same monthly premium for the same plan, so you can rest assured that you're getting the best available price.