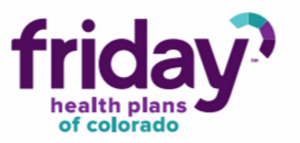 Friday Health of Colorado
Friday Health Plans is headquartered in Denver and focuses on overall simplicity to offer low prices so more people can afford health insurance. Operational efficiency, top-notch customer service, and smart technology are core to Friday's consumer-centric approach.
Friday Health – 2019 Plan Documents
Click here to look up Friday Health's network providers or here to view Friday Health's drug formulary, their free preferred generic list and their free generic list.
NORTHERN COLORADO AND SOUTHERN COLORADO SERVICE AREA HOSPITAL NETWORK:
DENVER SERVICE AREA HOSPITAL NETWORK:
URGENT CARE CLINICS:
Concentra and locally-contracted clinics.  
PRIMARY CARE PHYSICIANS, OBGYN, PEDIATRICIANS AND OTHER DOCTORS AND FACILITIES:
Providers from your region's hospital network. Plus independently contracted networks, facilities, and doctors.
REMOTE DOCTOR VISITS
Access care by phone, computer or mobile device at teladoc.com
Get a Free Quote! Fast, Easy and Online:
* Best Price Guarantee: Because health insurance rates are filed with and regulated by the Colorado Division of Insurance, you won't find the plans we sell offered for less anywhere else. If you get your health insurance through Colorado Health Insurance Brokers, through another agent/broker, or directly from Colorado's insurance exchange or the insurance carrier, you'll pay the same monthly premium for the same plan, so you can rest assured that you're getting the best available price.