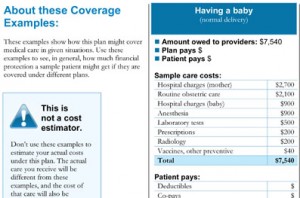 February 14th, 2012 – Confused by Colorado's hundreds of different health insurance policies?  Almost everyone is.
In fact, we literally have rocket scientist and PhD's in their respective fields that are equally baffled by health insurance. As Insurance Brokers a big part of our job is helping people understand the policy options and to get a policy that is the best fit for their needs and budget.
As part of the new Health Reform law, later this year health insurance companies will be required to provide consumers with a standardized "user-friendly summary of what's covered, along with key cost details such as copays and deductibles" that is just 6 pages in length.
The idea is that a standardized summary should make it easier to compare health insurance plans on an "apples to apples" basis.  Coverage examples illustrative of how plans would cover treatment and services must show two medical scenarios:  "Having a Baby" and "Managing Type 2 Diabetes."  These are good examples of the plan will work for a larger single claim and a chronic ongoing illness.
All insurers and employers offering group and individual policies must distribute the forms for policies that take effect on Sept. 23 or later. While consumers will welcome this, insurers are concerned about the cost and complexity of preparing these documents for thousands of different plans and have requested a delay in this requirement until 2014.
It's worth noting that the government's own "Medicare and You" document has grown to over 150 pages in length. Perhaps they need to practice what they preach.