September 7th, 2017 – The good news is that Colorado still has insurance companies offering plans in every county in Colorado.  Anthem Blue Cross Blue Shield recently announced that it plans to continue to offer health insurance statewide. In many rural counties, Anthem is the only carrier offering coverage in 2018.
The news that consumers will be less excited about is that the health insurance premiums will increase an average of 26.7% across Colorado.  Yesterday, the Colorado Division of Insurance released the final premiums for 2018.
2018 will have the same carriers as 2017, although Cigna is ending it's Vantage plans. The carriers offering individual plans in 2018 include: Anthem Blue Cross Blue Shield, Bright Health Insurance, Cigna, Denver Health, Friday Health Plans (formerly Colorado Choice), Kaiser  and Rocky Mountain HMO.
Cigna requested a premium increase of 41.2%, but the Division of Insurance approved a 30.9% increase.
Interestingly, Bright Health requested an increase of 15%, but the DOI approved a 27.4% increase. While this may not make sense at first glance, the DOI is helping to make sure that Bight Health has a successful Sophomore year in Colorado. Just a couple years ago, Colorado HealthOP set rates too aggressively for their second year and didn't have the financial resources to handle all the claims and continue in business for a third year.  The DOI's approved rate increase for Bright Health should keep the company on solid ground for the long run.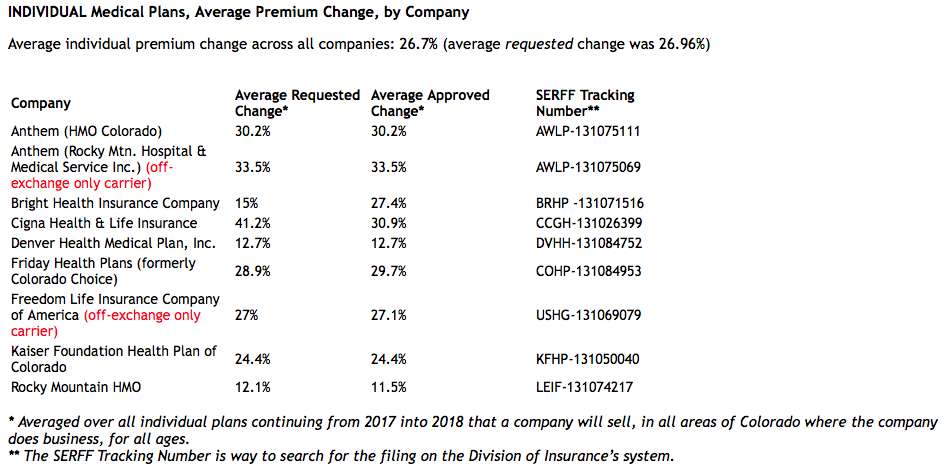 Those eligible for federal tax credits will get government help to offset the rate increases.  It's unclear if the Cost Sharing Reductions will continue to be funded in 2018, so we'll be carefully watching to see what President Trump does with those. If the Cost Sharing Reductions aren't funded, we can expect more big rate increases in the future, so this is something to keep an eye on, along with other bipartisan healthcare reforms being proposed.
Open enrollment for 2018 re-opens on November 1st, 2017 and runs through January 12th, 2018.  However, to get a January 1st start date on a new policy, enrollments should be completed by December 15th.   Colorado Health Insurance Brokers is ready to assist consumers, if they get their insurance directly from carriers or through Connect for Health Colorado and at absolutely no extra cost to consumers.