July 17th, 2017 – Last Friday, Colorado's Insurance Commissioner released the insurance carriers requests for rate increases for 2018. In 2017, we saw rates go up an average of 20%.  In 2018, rates will climb by almost 27%.
The final rates still need to be approved by the Colorado Division of Insurance in late September or October.  It's worth noting that all the rates in the graphic below are averages and some people in more rural areas are likely to pay more and people in the Front Range are likely to pay less.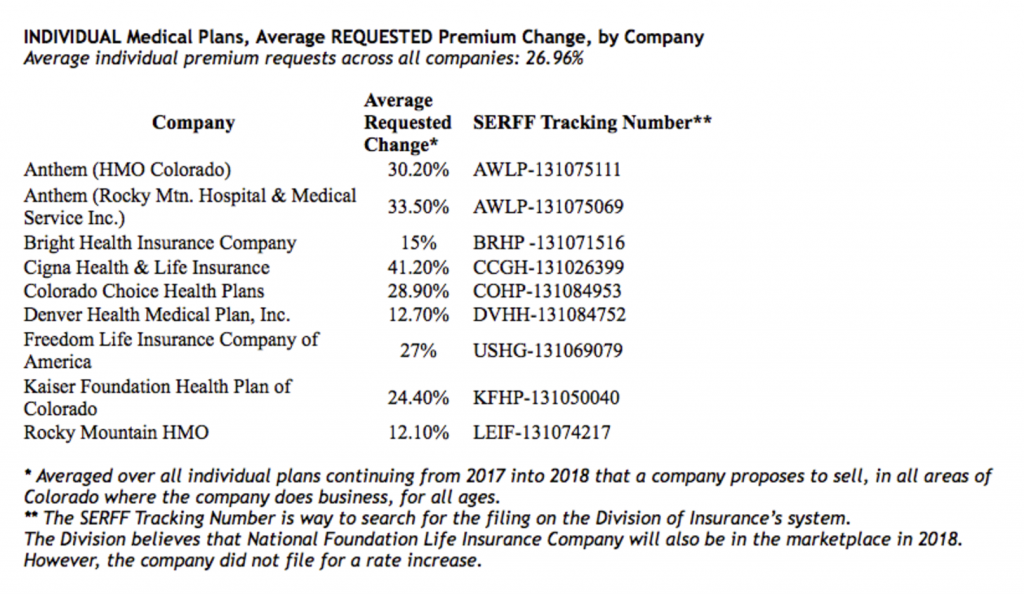 While just a few weeks ago the Division of Insurance indicated there will be at least one carrier offering insurance in every county in Colorado in 2018, they indicated that is subject to change if the US Senate passes legislation that further disrupts the market or drag things out much longer.
"They were very concerned," Marguerite Salazar, Colorado's insurance commissioner, said of insurance companies. "They didn't even know if they would continue to have an individual plan. So it's the instability that's causing this high increase."
Insurance companies actuaries are not fond of uncertainty, so if uncertainty lingers too long or if unfavorable legislation passes, then some carriers might still drop out of Colorado's health insurance market in 2018.  "The insurance companies have indicated to the division that they may be forced to reevaluate their participation in the marketplace if the lack of clarity at the federal level continues," according to the Division of Insurance's news release.
For now, it looks like we should have roughly the same number of carriers in Colorado in 2018 as we do this year, although there will be slightly more plans offered off-exchange (carrier direct) than through the Connect for Health Colorado marketplace.
We can only hope for more stability with health insurance carriers and rates, as the system has become increasingly fragile since the advent of the Affordable Care Act.  Neither party's law or proposed legislation has done nearly enough to address the underlying health care price inflation that consumes nearly 18 cents for every dollar spent in America.
After the Division releases the final approved plans and premiums for 2018 this Fall, it plans to host a public forum to discuss health insurance for 2018.