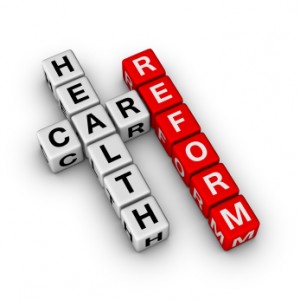 May 10th, 2017 – On May 4th, Congress passed the American Health Care Act (AHCA), which was part of a Republican efford to make good on campaign promises to "repeal and replace" the Affordable Care Act, better known as ObamaCare.  NPR has a fairly balanced fact check of the AHCA.
The AHCA is a budget reconciliation bill that next goes to the Senate. It requires a simple majority (51 votes) for passage in the Senate. The Senate has 52 Republican senators.  Last weekend President Trump tweeted, "Republican Senators will not let the American people down! ObamaCare premiums and deductibles are way up – it was a lie and it is dead!"
Because the AHCA will impact millions of Americans and with several Republican Senators up for mid-term elections in 2018, the future of the AHCA remains uncertain. The AHCA is much more likely be re-written and sent back to Congress for approval before it would go to President's Trump's desk for signature, turning the bill into law.
Earlier this week, a number of Republican Senators were quoted as saying they'll be "starting from scratch" with a complete rewrite of the AHCA bill.
Senate Majority Leader Mitch McConnell said: "I commend the House and the administration for making this important advance last week. Now the Senate will do its work. The administration will continue doing its part to deliver relief and stabilize the health markets as best it can. This process will not be quick or simple or easy, but it must be done. It's the least members in both parties owe countless Americans who continue to suffer under Obamacare, and the countless more who will be hurt if we don't act."
Identical versions of the AHCA bill must pass both chambers before being signed by President Trump and becoming law. The final version of the AHCO will still have to be scored by the Congressional Budget Office (CBO) to understand the financial impact of the bill.
With Colorado's health insurance carriers having to file their 2018 health insurance rates with the Colorado Division of Insurance by mid-June, the clock is ticking.